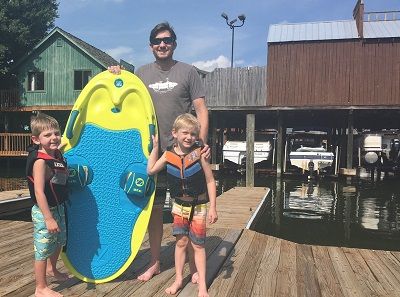 You and your family are crazy excited about your vacation to Smith Mountain Lake – especially the kiddos.
Of course, the little ones can't wait to get on the water to try out a variety of water sports, but you're a bit hesitant. What if they can't get up? What if frustration takes over and the outing ends in tears?
Being out on the water learning to kneeboard, ski or wakeboard can be exciting, but also challenging for kids.
We've all witnessed the disappointment that can come with not being able to get up and going behind the boat, even with the best instruction.
So how can you turn frustration into a fantastic water sports experience for you kids? It's easier than you think!
Keep reading for my tips on easy ways to make sure your children have positive, giggle-filled outings on Smith Mountain Lake all summer long.
Try Tubing First
Tubing is a great way to introduce kids to the water and to water sports. There's no pressure in being towed behind a boat on a giant, colorful inflatable – only hours of fun.
Yet, tubing is a fantastic first step toward getting your kids comfortable in the water and with the sensation of being towed.
If your child is timid about tubing, have them watch from the boat as others take their turns. Stay positive and make sure they see how much fun everyone is having.
If they're still hesitant, offer to ride along with them! Most tubes accommodate at least two people. Your child will surely get a kick – and a jolt of confidence – out of seeing Mom or Dad tubing, too.
Bridgewater Marina has a variety of tubes for sale, including some with a guaranteed buy-back policy. You can also rent a double tube starting at just $25 per day. Two life jackets and a tow rope are included in the rental.
Graduate to the O'Brien Simple Trainer
Another great product that's perfect for introducing kids to water sports at Smith Mountain Lake is the Simple Trainer from O'Brien.
An inflatable that's soft and cushiony, the trainer will plane off with very little movement so you're able to tow at a very slow speed. When not in motion, there's a small perch at the back for sitting and resting.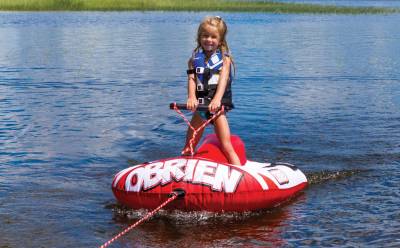 Getting your little one up and going on the Simple Trainer practically guarantees a successful outing. The child puts her or her feet in comfortable stirrups and is towed in a standing position.
The Simple Trainer comes with two ropes – one for the child to hold and a tow rope for an adult to hold from the boat. The large, inflatable floor of the product means many of the bumps are absorbed for a smoother ride.
With the Simple Trainer, your little ones (up to 85 pounds) get the experience of "skiing" like the big kids or adults, without the pressure of actually having to pull themselves up in the water. When you're done, it deflates for easy storage.
The Simple Trainer is available at Bridgewater Marina for $145.
Try the Multi-Purpose ZUP Board
Fairly new to the market, the ZUP board is an all-purpose water toy that's gotten rave reviews from kids and parents for reducing the typical learning curve while providing a fun way to enjoy Smith Mountain Lake water sports.
The product's developers came up with the name because their mission is that "everybody getZUP." The board's versatility allows for beginners to get up and having fun quickly, but also provides a thrill for more intermediate and advanced skiers (young and old alike).
Constructed of a thick, cushiony, molded plastic, the ZUP board resembles a kneeboard with an oval shape and soft top pad. Instead of a knee strap, however, there are two foot straps that double as place to rest your forearms and elbows when starting out on your stomach.
The rider grips two handles at the front of the board and then, once towing is underway, pulls himself up into a kneeling position. At that point, he can grasp the detachable double-handled rope and ride the ZUP as a kneeboard.
The second option is to move from kneeling to a standing position, utilizing the foot straps. The ZUP then offers more of a skiing/wakeboarding experience for riders.
The ideal speed for using the ZUP is 12-18 mph, but it's important to start slowly and increase speed as the rider becomes more comfortable.
I've been teaching kids to ski, wakeboard, and kneeboard at SML for 20 years and the ZUP board is by far the best board for beginners I have used. My 4- and 5-year-old sons love their ZUP board. Before they were able to stand up on the board they were able to use it as a kneeboard, which kept them from feeling intimidated and gave them a good feel for being behind the boat. Every day when I get home from work they say, "Let's ZUP, Dad!"
Bridgewater Marina sells the ZUP board ($299.99) so stop by if you have more questions or want to check it out.
Water Sports Safety Reminders
Any time you're out on the water with kids, it's important to ensure they wear a Type III, U.S. Coast Guard-approved life jacket. Watch a short video by water safety expert Roy Enslow on how to ensure a proper fit.

If you need assistance with life jackets for children or adults, please ask one of the trained staff members at Bridgewater Marina. They're happy to help!

Find a quiet cove with smooth water, if possible.

Be sure the boat captain drives in a safe manor and at speeds appropriate to the ability of the rider.Always have a responsible adult watching riders from the back of the boat. Remember, it takes three to ski!
Find more Smith Mountain Lake boating safety tips on the Bridgewater Marina Vimeo Channel.
Final Thoughts on Introducing Kids to SML Water Sports
Teaching your children water sports at Smith Mountain Lake can be a tremendously rewarding experience. Just remember to be patient and provide tons of positive reinforcement.
Once your kids gain confidence and proficiency, it will be easy for them to graduate to skiing, wake surfing or wakeboarding at Smith Mountain Lake. … And your family will be on its way to enjoying fun times together at SML for years to come!
Ryan Waters
Bridgewater Marina