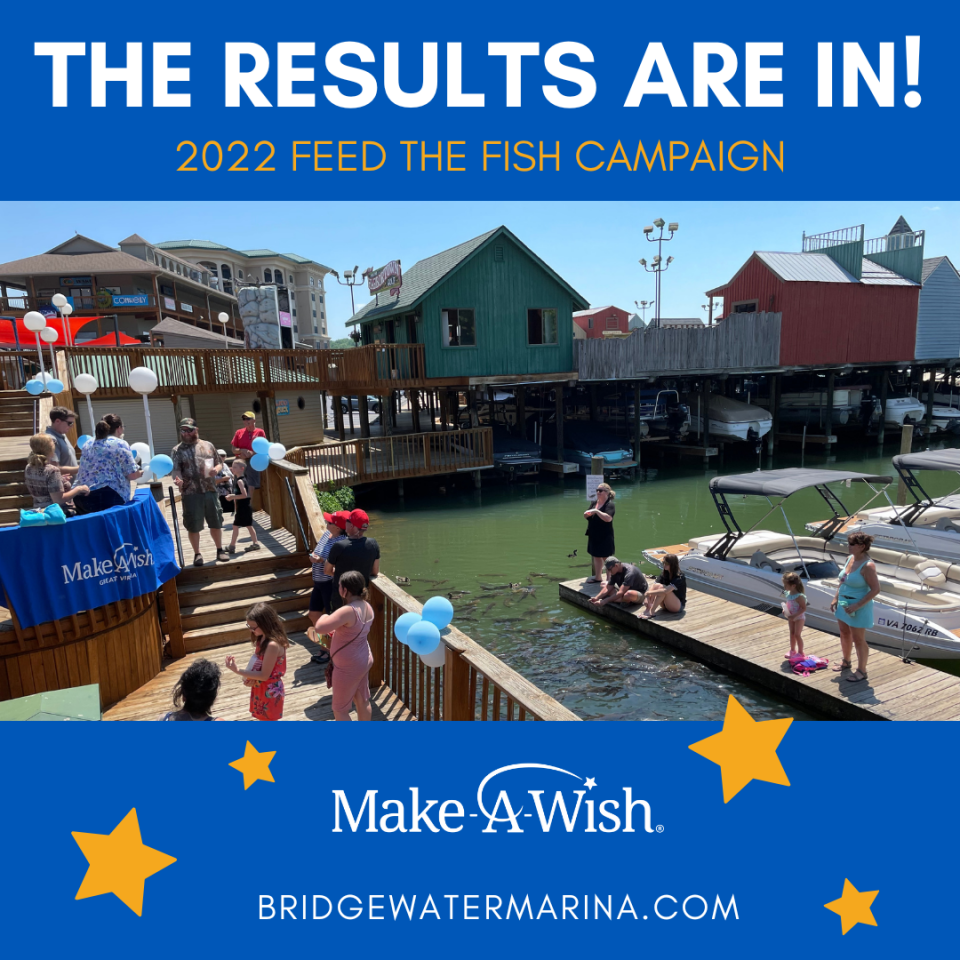 In June, Bridgewater Marina hosted a community event to celebrate more than $100,00 donated to Make-A-Wish Greater Virginia through our "Feed the Fish for Make-A-Wish" fundraiser.
Today, we're excited to announce we recently presented a check for an additional $26,433, bringing the grand total donated to $147,590 in just six years!
And it's all thanks to YOU!
All of the money is raised by SML residents and visitors, so it's truly our awesome customers who make the donations possible. We are extremely grateful for your enthusiastic support of this amazing organization.
Make-A-Wish Greater Virginia is a Richmond-based nonprofit that grants life-changing wishes for children in Virginia facing critical illness.
How does Feed the Fish for Make-A-Wish work?
It's simple. You come to the marina, purchase a bag of popcorn for $1 to toss to those big, hungry carp that gather year-round at our docks. Then we donate 100% of the proceeds!
Paige Bullen, Director of Development for Make-A-Wish Greater Virginia, said wishes create hope and restore joy for children battling critical illnesses right here in Virginia, and can be a real turning point in their battle.
"We are deeply grateful to the dedicated staff at Bridgewater Marina and the generous Smith Mountain Lake community for making this incredible donation possible. We are so proud to partner with them and grant more wishes for children across the state thanks to the success of Feed-The-Fish For Make-A-Wish," she said.
Bullen said the mission of Make-A-Wish is to grant wishes to children in Virginia facing critical illnesses. Examples include meeting sports stars or celebrities, working a dream job and visiting a desired destination such as Chicago or New York.
What's our goal for 2023 Feed the Fish for Make-A-Wish?
As many of you know, Make-A-Wish very near and dear to my heart, and the team and I can't thank you enough for continuing to support this event. The Smith Mountain Lake community is the best!
Our goal for 2023 is to get back to pre-pandemic levels and raise $30,000!
Visit the Make-A-Wish Greater Virginia website to find out more about their inspiring work, and be sure to follow them on Facebook.
~ Ryan Waters and the team at Bridgewater Marina