Tops in Tourism: Bridgewater Marina earns SML Chamber award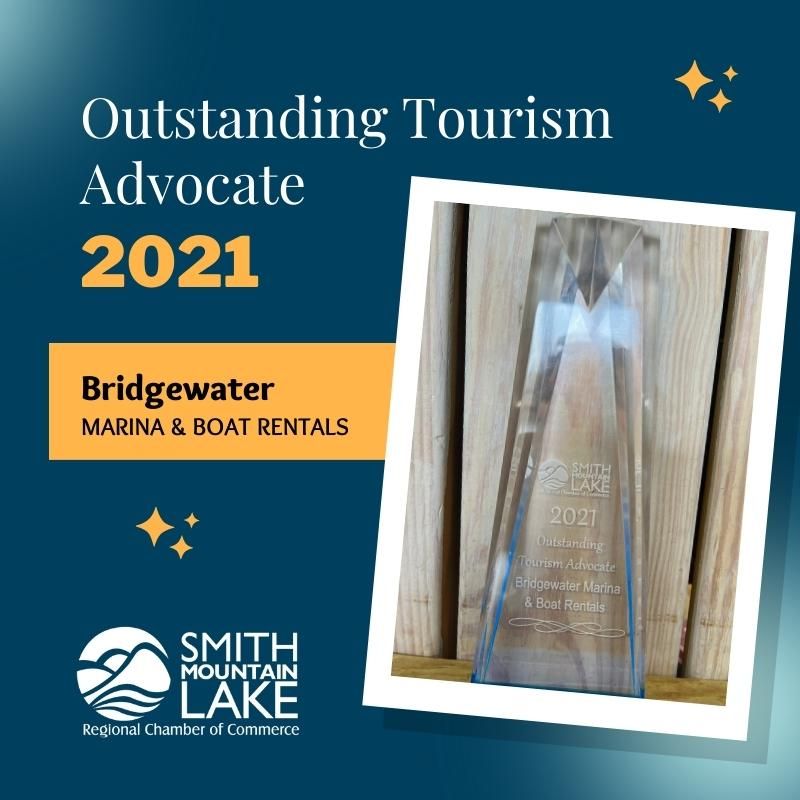 For the second time in four years, I'm excited to announce that Bridgewater Marina was honored with the area's top award for Tourism and Hospitality by the Smith Mountain Lake Regional Chamber of Commerce.
I happily accepted the award, which is voted on by the Chamber membership, at the organization's annual dinner in March at Bernard's Landing.
Why is this recognition so important to us?
Because our whole team takes great pride in making sure anyone visiting Smith Mountain Lake truly gets the five-star treatment.
Whether they're renting a boat to get out on our beautiful waters, just stopping by for snacks and drinks or want to grab a bag of popcorn to feed the fish, our team members strive to make a positive lasting impression on each customer.
So, on behalf of the entire crew at Bridgewater Marina, we'd like to thank our peers in the SML business community for recognizing us with this outstanding award!
~Ryan Waters, Managing Partner
---
AWARD CRITERIA
Tourism/Hospitality: In this region, where tourism is a major industry, hospitality service is essential. The recipient of this award, person or business, consistently exemplifies the highest standards of customer service. The winner of this award is known for "going the extra mile" to accommodate visitors and vacationers to the region. Hospitality businesses include: Accommodations, restaurants, rentals, fishing/sporting guides, recreation and any business serving visitors to the area.