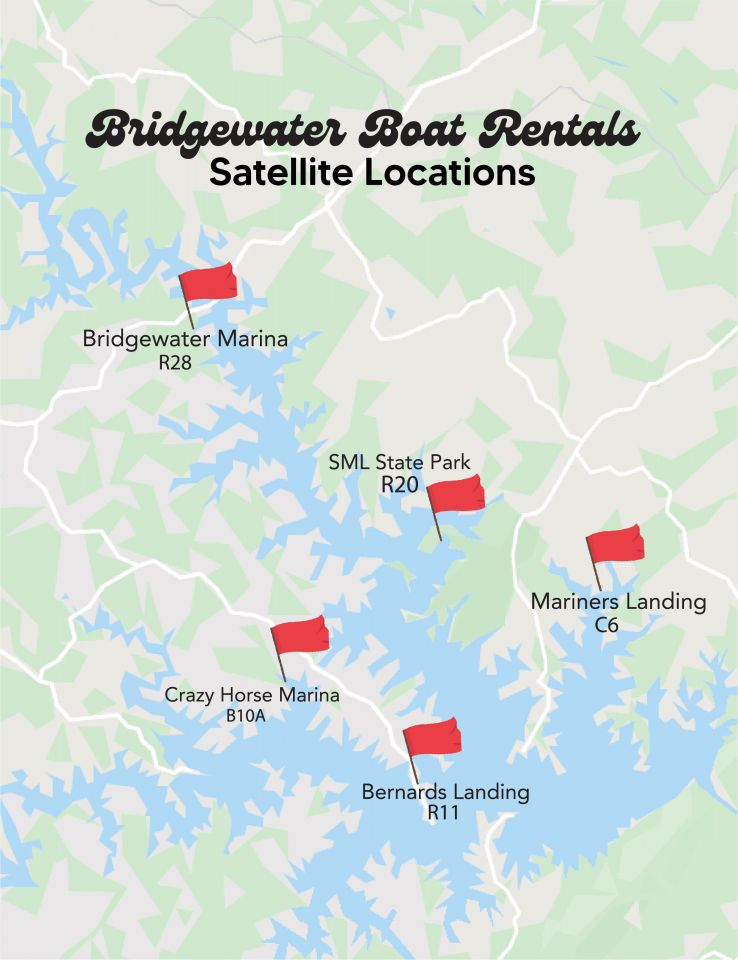 The best Smith Mountain Lake boat rental company just got even better.
Bridgewater Marina now has five locations where you can rent boats, personal watercraft and a variety of watersports equipment at Smith Mountain Lake.
That's more than any other boat rental company at SML!
In addition to our main location at the most popular spot on the lake – Bridgewater Plaza – we operate five satellite locations throughout the summer months.
So no matter where you're staying on the lake, an awesome SML boat rental experience is never far away!
Our satellite locations can be found at:
Crazy Horse Marina
Mariners Landing
Bernard's Landing
Smith Mountain Lake State Park

The types of boats and rental equipment available varies by location. All of the details, including address, phone number and types of SML boat rentals can be found on our locations page.

Locations and hours of operation
MAIN LOCATION
The main Bridgewater Marina location at Bridgewater Plaza is open year round. Hours vary by season so be sure to check our Facebook page. In the summer months, it's 9 a.m.-7 p.m. Sunday-Thursday and 8 a.m.-9 p.m. Friday-Saturday.
SATELITE LOCATIONS
Hours of operation for Mariners Landing, Crazy Horse, Bernard's Landing and SML State Park boat rentals:
Memorial Day weekend through Labor Day weekend. 9 a.m. to 7 p.m.
Ready to book your SML boat rental?
Reservations are quick and easy online. The earlier you book, the better your chance of securing your preferred dates, boat type and check out/check in time.
Bridgewater Marina offers staggered check out and check in times to provide customers with the ultimate in convenience and flexibility.
Questions about booking at Bridgewater Marina? Send us an email or call (540) 721-1639.
~ Ryan Waters, Managing Partner