Laker Magazine readers vote Bridgewater as Best Marina at SML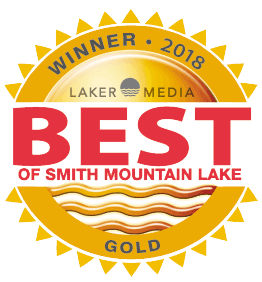 Bridgewater Marina earned the 2018 award for Best Marina at Smith Mountain Lake and three other awards in Smith Mountain Laker Magazine's 17th annual Best of SML Awards.
The awards, which are voted on by readers, are the highest vote of confidence for businesses and organizations at SML. Thank you to all who voted! We're thrilled to once again be your No. 1 selection for best SML marina.
Bridgewater Marina also earned the silver award for Best Place to Buy a Boat or PWC and honorable mentions for Best Place to Buy and SML and Best Place to Buy a Gift.
​In addition, Bridgewater Plaza earned the following awards:

GOLD: ​Best Place to Come by Boat
GOLD: Best Place to Meet New People
GOLD: Best Kid/Family Outing
Pick up a copy of the January/February 2018 issue of Smith Mountain Laker Magazine to get a look at all the winning businesses, individuals and organizations. You can also read it on the web at this link.
The team at Bridgewater Marina truly appreciates these awards and is looking forward to an amazing 2018!
~Ryan Waters, Managing Partner