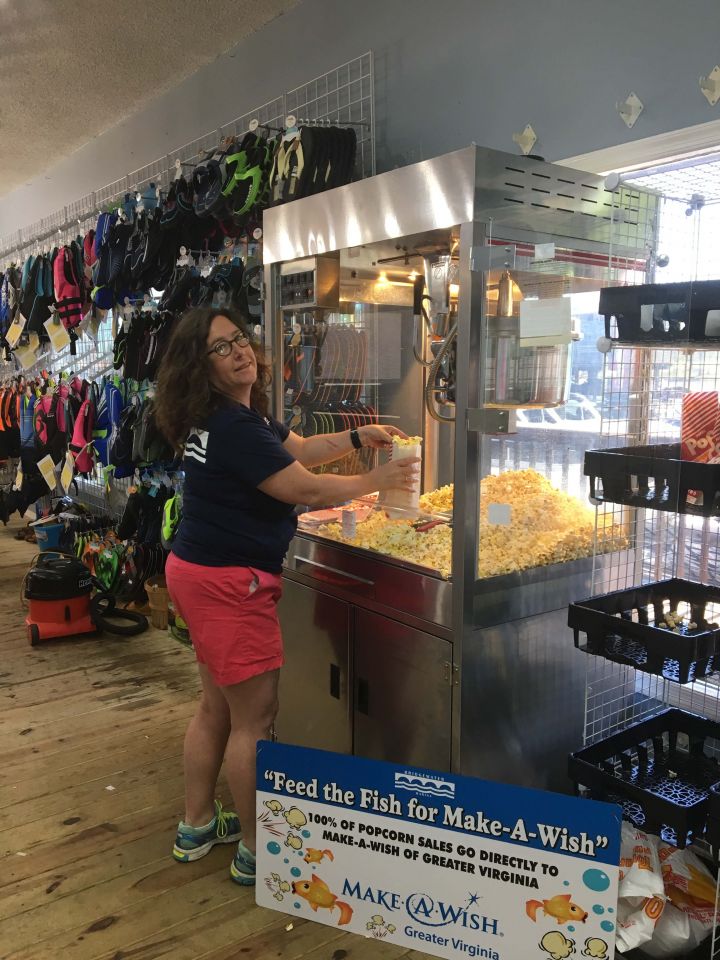 Bridgewater Marina is excited to announce that, for the second straight year, we will donate 100 percent of popcorn sales to Make-A-Wish Greater Virginia. Our goal is to raise $30,000!
Thanks to your generosity, we were able to donate $25,216 to the Richmond-based charity in 2017 as part of a campaign we call "Feed the Fish for Make-A-Wish."
Kids and adults purchase popcorn for $1 a bag to enjoy, but also to toss to the massive carp that gather around our docks at Bridgewater Plaza.
In anticipation of increased demand we've replaced our small, aging popcorn maker with a new industrial model. (That's our office manager Stephanie Hess filling bags in it.)
Last year, we discovered many people would buy multiple bags of popcorn because they knew all the proceeds were benefitting such an amazing charity, so it was sometimes difficult to make the popcorn quickly enough. The new popper is much faster and more efficient, popping four times the amount of popcorn as the old one.
Plus, nearly everyone who's tried it says it tastes better!
The more popcorn, the more life-changing wishes that can be granted for children with critical illnesses, which is the mission of Make-A-Wish of Greater Virginia, according to President and CEO Sheri Lambert. Examples of wishes include meeting celebrities, working a dream job and visiting a desired destination such as Florida or New York City.
"Research shows that a wish has a lasting and substantial impact on the emotional and physical health of children battling critical illnesses," Lambert said. "It is only through the support of generous donors like Bridgewater Marina that we can achieve our vision of granting a life-changing wish for every eligible child, and we are deeply grateful for their continued support."
As always, we're getting the word out via Facebook and Twitter and would greatly appreciate your likes, comments and shares throughout the season.
Thanks for all your support. We look forwared to cutting a HUGE check for Make-A-Wish in the fall!

~ Ryan and the team at Bridgewater Marina