It's time for Best of Smith Mountain Lake voting!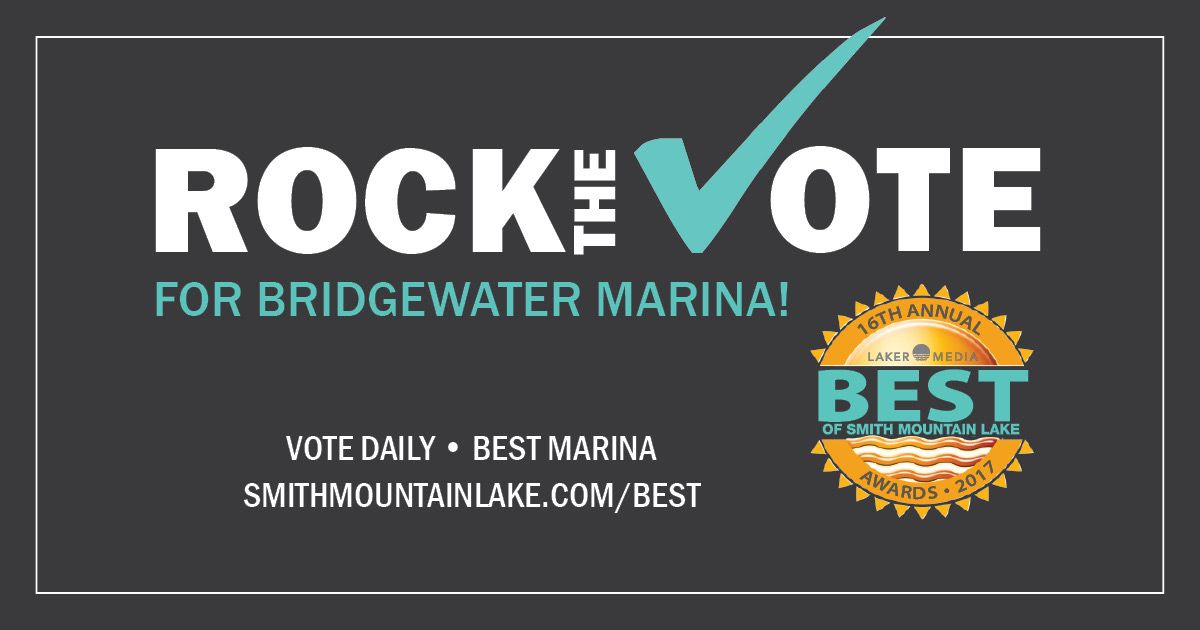 Each year, Laker Magazine conducts its Best of Smith Mountain Lake Awards where readers vote for their favorites in dozens of categories related to food, fun and business at SML. Voting has begun and we'd really appreciate your support!
We would LOVE it if you could take a few minutes and vote for Bridgewater Marina and Bridgewater Plaza in the categories below. You may vote every day through Oct. 20 and you DON'T have to vote in every category – just a few – to make your ballot count. (See more detailed instructions below.)
VOTE HERE --> www.smithmountainlake.com/best
Bridgewater Marina:
Best Marina

Best Place to Buy a Boat or Personal Water Craft

Best Place to Buy Clothing and Accessories (write in)

Best Place to Buy a Gift

Best Place to Buy an SML Souvenir
​Bridgewater Plaza:​
​Best Place to Come by Boat

Best Place to Meet New People

Best Place to Take a Visitor

Best Kid/Family Outing​
How to vote in 2019 Best of SML Awards
Create an account with your email address or log in to an existing account.


Click VOTE next to Bridgewater Marina in the categories of Best Marina,

Best Place to Buy a Boat or PWC, Best Place to Buy a Gift

and Best Place to Buy and SML Souvenir. Write in Bridgewater Marina for Best Place to Buy Clothing Accessories.



That's it! Note: There's no "finish" button at the end. Every vote is logged when you complete each category.
You may vote ONE TIME PER DAY through Oct. 20, 2019. Thank you in advance. We really do appreciate it!
~ Ryan and the team at Bridgewater Marina
P.S. Follow us on Facebook and Twitter for events, activities, news, sales and more happening at the marina and around Smith Mountain Lake!